I guess it's actually Tuesday by now.
So I've received the following questions a lot in the last 24 hours. Here's where I'll post a semi-definitive account of how today's Daily Tar Heel came together.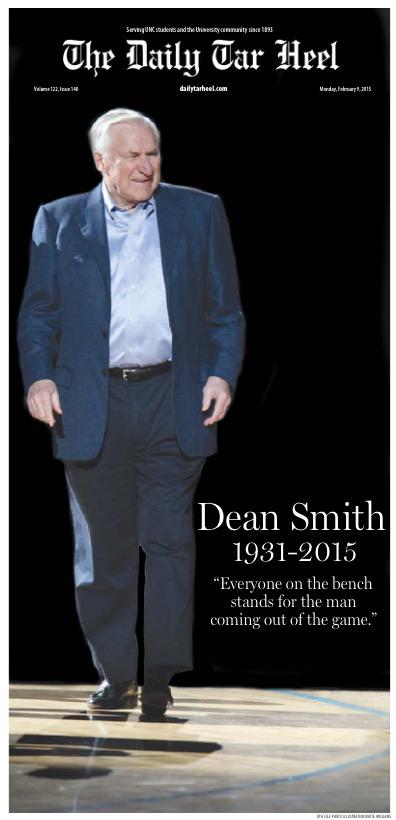 How long did you plan for this issue?
We started planning when I woke up on Sunday morning at 10 a.m. I woke up to dozens of text messages about Dean Smith's death and immediately told my desk editors and the senior writers from the sports desk to meet at the office at noon.
The team and I holed up in the conference room until we had this issue planned — the whole meeting took about an hour. As soon as I heard the news, I knew I wanted to bump up the paper to 10 pages so we could have a double truck and several open pages. I knew I wanted to do an entire paper dedicated to his legacy. I just had no clue how it would turn out.
Did you have stories planned in advance?
So most newspapers have obituaries prepared in advance for elderly people they cover regularly. The Daily Tar Heel is no different, but some of our obituaries are several years old and the writers no longer work for us.
We had a two-year-old obituary filled with pertinent biographical information. We ultimately didn't use any of it.
Other than that, we had nothing before that noon meeting on Sunday. We sat around and tried to plan coverage around what students would want to read about Dean Smith's legacy. There were the stories everyone knew — that he was a humble man with an incredible memory and a lifelong dedication to civil rights. We knew we had to have those. But we also wanted the stories very few people knew — that this man took the time to respond to most of the letters he received.
Who was the mastermind?
Ultimately, the mastermind of this issue was readers. In every stage, we tried to have our readers' best interests in mind. We constantly revisited the question, "What can our readers learn from this (story, graphic, photo)?"
We really wanted this to be something people would keep forever.
How many papers did you end up printing?
We normally print 15,000 copies on Mondays. We really weren't sure how demand would go with the weather forecast (it was supposed to rain all day). We printed an extra 1,100 as a cushion.
We were wrong. We ultimately needed 7,000 extra copies. We had reporters stationed at the Pit who handed out 3,000 copies to students in one hour. And that's at one per person!
What was the hardest part?
The hardest part was the persistent feeling that we could never capture this man's greatness in one issue.
And, on a personal level, Sunday was an extremely long leadership exercise. I had to give our incredible sports writers, designers and photographers the freedom to do what they wanted and hope that they would achieve my ultimate vision — an entire paper dedicated to one of North Carolina's finest.
They sure did it.
One day, I really hope I have the chance to work at a newspaper with all of these people again. I want us to have more than a year. Then we could really show you what this team is capable of.